IS IT A STRAIN, A SPRAIN, OR A FRACTURE?
Minor injuries due to falls, over exertion or exercise often occur. The severity of an injury determines the type of care you require, but it is difficult to know the extent of the injury. A strain is an injury to a muscle or tendon (the connective tissue that binds the muscle to a bone). A sprain is a stretch or tear in a ligament (the connective tissue that holds bones in alignment). A fracture is a crack or break in a bone.
WHAT ARE THE SYMPTOMS?
A strain, sprain and fracture can all display similar symptoms including pain, swelling and bruising. Often cramping or spasms will occur with a strain and limited or loose movement in a joint may occur with a sprain. Strains and sprains are categorized as Grade 1, 2 or 3 or as Mild, Moderate or Severe depending on the extent of the injury. Fractures are classified by severity, positioning and location.
HOW ARE THEY DIAGNOSED?
The action that triggered the pain can help determine the type of injury. Strains involve over stretching or tearing a muscle or tendon and usually occur during strenuous movements and often during exercise. Sprains occur when a joint is forced into an odd position resulting in a stretched or torn ligament. This often occurs in knees, ankles or wrists but may occur in other joints. Pain from a fracture occurs on top of a bone and is worse when pressure is directly applied to the area. Persistent, unrelenting pain that lasts more than 24 hours may be indicative of a severe sprain or fracture. Contact your Esse Health physician for an appointment. Your doctor will take a medical history and then examine your injury to determine if an X-ray is recommended.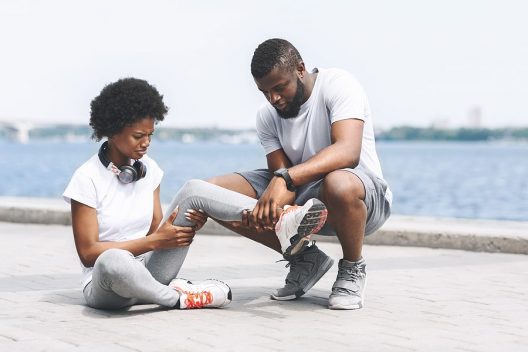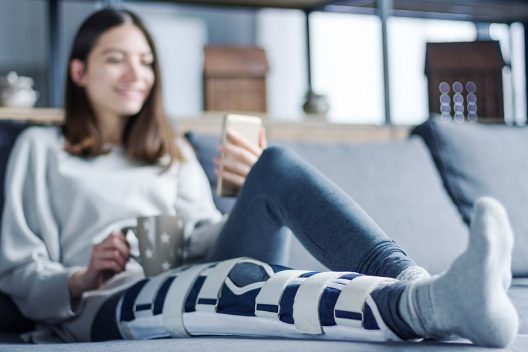 WHAT ARE THE TREATMENT OPTIONS?
The safest and most efficient strategy for any suspected strain, sprain or minor fracture is to follow the RICE protocol. RICE is an acronym for Rest, Ice, Compression and Elevation.
Rest - Stop the activity that is causing pain to avoid further damage to the area
Ice – Immediately apply ice for 15-20 minutes then every 2 hours while awake to reduce swelling
Compression - Wrap the injured area with an elastic bandage for stability
Elevation - Keep the area elevated to avoid additional swelling
Should you find the pain has increased in intensity after utilizing the RICE protocol, contact your Esse Health physician. Your doctor will recommend whether an office visit, a trip to the urgent care, or a trip to the emergency room is best for you.